<![if !IE]> <![endif]>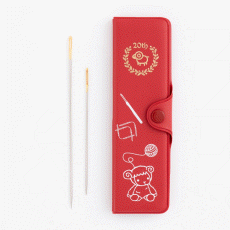 TAPESTRY NEEDLES for AMIGURUMI are long enough to pass smoothly through wadding.

Assorted needles of different thickness and length are stored in a portable handy case with snap button fastener.
These long needles pierce wadding effortlessly, making them ideal for finishing off Amigurumi.
A long needle will allow you to leave enough yarn in the head or body of Amigurumi, the thread end therefore becoming entwined in wadding.
These needles are ideal for sewing on small parts, such as eyes and noses.
In the inner pockets of the case, you can safely store your knitting accessories for convenient everyday use.

Collaboration with Japan Amigurumi Association
Founded in 2002, a community of amigurumi enthusiasts sharing their designs and techniques with one another and the world. The association supports writers on amigurumi and holds workshops, exhibits and other events each year. They are the author of "The Complete Guide to Crochet Dolls and Animals."

4-19-8, Kusunoki-Cho, Nishi-Ku
733-0002 Hiroshima
Japan