<![if !IE]> <![endif]>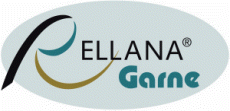 RELLANA Karin Reller e.K.
Zum Österreich 9
49179 Ostercappeln
Germany
+49 5473 95850

+49 5473 958525

List of Products
This exhibitor shows the following products and commodity groups:

Company & products
Regenbogen Mirage Royal
Magische Tücher!
Die schönen Tücher entstehen aus jeweils einem Bobbel Regenbogen Mirage Royal. Wenn man sich an die Anleitungen aus unserem Regenbogen Mirage Royal Anleitungsheft hält, entstehen gestrickte und gehäkelte Tücher, Stolas, Schals und Pullover wie von Geisterhand direkt aus dem Knäuel heraus! Die wundervollen Bobbel bestehen aus 4 Fäden und 4 Farben. Das Garn ist nicht gefacht, sondern gezwirnt. Es ist knotenfrei, die Übergänge sind kaum wahrnehmbar, da die Fäden an den da die Fäden an den Farbübergängen mit Luftdruck zusammengepresst werden.